During cross-examination the complainant was quizzed about the circumstances surrounding a consensual kiss with Paddy Jackson
A woman at the centre of a rape trial involving two Irish rugby internationals has denied "teasing" one of the accused.
During cross-examination, the complainant, who cannot be identified for legal reasons, was quizzed about the circumstances surrounding a consensual kiss with Paddy Jackson.
The court heard how the woman and Jackson had been in an upstairs bedroom of his home when the kiss happened.
She said: "He (Jackson) instigated the kiss. It was a bit of a lunge. It lasted seconds before he started to undo my trousers."
The woman claimed to have "firmly" told Jackson she was not interested in taking things further and left the room.
However, defence barrister Brendan Kelly QC suggested it was Jackson who left the bedroom first: "Paddy Jackson left that room before you did because he became tired of your teasing."
The woman responded: "I was not teasing Patrick Jackson."
She later added: "As I recall I left the room alone as soon as he started to undo my trousers."
The complainant was giving evidence as the high-profile trial entered its sixth day at Belfast Crown Court.
She wiped away tears as graphic detail of the alleged rape, which she says happened when she returned to the bedroom to retrieve a clutch bag, was discussed.
Mr Kelly added: "Why did you not give him a firm no this time and leave the bedroom?"
She said: "He was not taking no for an answer."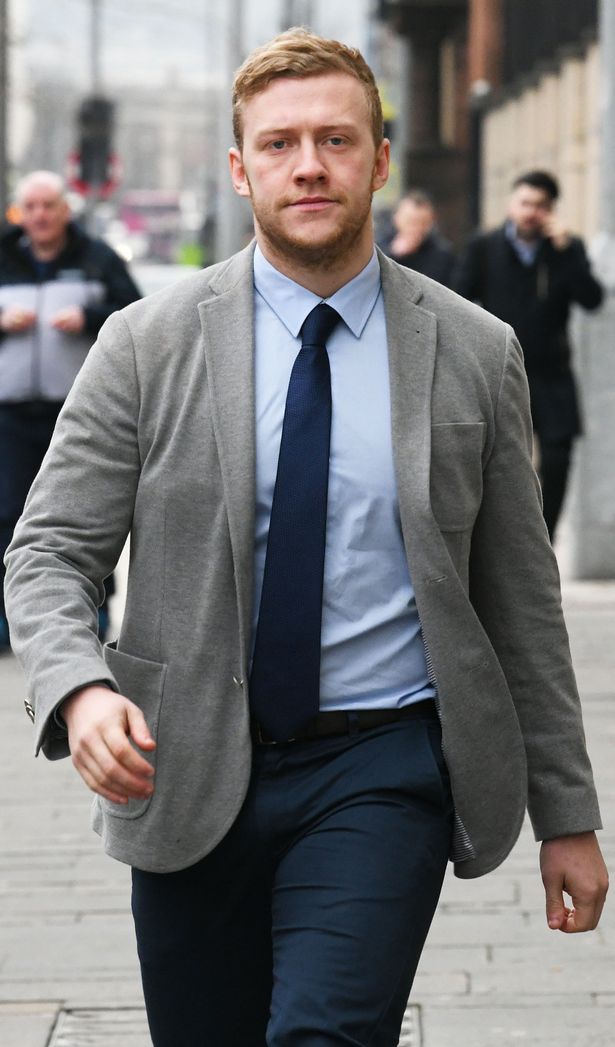 Stuart Olding at Belfast Crown Court today
The woman claimed she was frozen with fear and that her physical demeanour had not been encouraging.
She added: "You cannot underestimate how scared you are in these situations, Mr Kelly."
Jackson, 26, of Oakleigh Park in Belfast, denies raping the woman in June 2016. He also denies a further charge of sexual assault.
Ireland and Ulster team mate Stuart Olding, 24, also denies raping the woman.
Two other men have also been charged in connection with the same incident.
The complainant acknowledged that her recollection was in part "hazy".
When probed further about consent for the kiss, the woman responded: "Yes it was but that's not indicative of consent for anything else."
The 12 person jury panel has heard how the alleged rape happened at an after-party following a night out at a Belfast club.
The woman, who had been socialising in the VIP area of the club, was quizzed about how she came to be in Jackson's company.
Some Northern Ireland footballers were also present at the club, the court heard.
Mr Kelly said: "Is not the truth of what happened, as far as outside Ollies is concerned, you were desperate to join the footballers at their party?
"When that invitation was not forthcoming, what you saw was Paddy Jackson.
"You waited some time and joined his group, his party."
She had not been invited, the lawyer suggested.
The woman responded: "That's not how I remember it."
The complainant was further asked how she felt about Jackson.
Mr Kelly said: "You had got back to Paddy Jackson's. Did that make you sad or did that make you happy?"
The woman answered: "Pretty impartial to be honest."
The trial continues.
Comments
comments