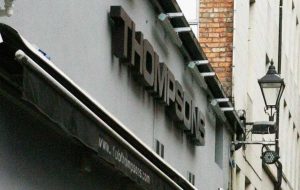 A BOSS at one of Northern Ireland's top nightclubs has been acquitted on charges of assaulting two customers.
Mark McCourt (35) was also found not guilty of attacking a third man outside Thompsons Garage in central Belfast two years ago.
The case against the venue's part-owner and two co-accused was thrown out after one of the alleged victims was held to have lied about having no criminal record.
Defence counsel claimed his behaviour had rendered proceedings "rotten".
Clearing all three defendants at Belfast Magistrates' Court, Deputy District Judge Chris Holmes warned he may refer that man to the Public Prosecution Service for attempting to pervert the course of justice.
Mr McCourt, of Pattersons Place in the city, denied charges of assault occasioning actual bodily harm and also two counts of common assault.
Joseph Doyle (28) from Cliftonville Road, and 51-year-old Seamus Deeds, of Horn Drive – both in Belfast – each contested a single count of common assault.
Charges were brought over an incident at the venue on March 12, 2015.
Deputy District Judge Chris Holmes was told alleged victims Aaron Quinn and Jonathan Russell had been drinking in another bar before arriving at the club.
They were said to have met with Mr McCourt and received free drinks following a complaint about not getting served.
Mr Quinn claimed he became involved in a brief scuffle with the owner which he described as "friendly banter".
He and his friend Mr Russell then left the premises along with Mr McCourt and a number of bouncers.
A third man allegedly assaulted by the nightclub boss in the alleyway was due to give evidence as the case resumed yesterday.
But a prosecution barrister confirmed she was not calling on him following the disclosure of his past convictions.
Defence lawyers successfully applied to have all charges dismissed at the close of the prosecution case.
Mr Morgan questioned the lying witness's reasons for being at the scene, adding that he had also been sending letters to the City Council.
Acquitting all three defendants, Mr Holmes held that the CCTV footage showed Mr McCourt was himself attacked both inside and outside the club.
He said: "There's not a possibility I would ever be convinced of their guilty beyond a reasonable doubt."
Comments
comments